"3rd World Magnesium Forum", held by Asian Metal and supported by Nanjing Welbow Special Metals Co., Ltd., Shanxi Credit Magnesium Co., Ltd. and Qinghai SunGlow Magnesium Co., Ltd., was organized on March 26-28, 2014, early spring, in Nanjing, Jiangsu, concerning about magnesium, magnesium powder, magnesium alloy, die casting, extruding parts and aluminum alloy. Almost 200 delegates from China and foreign countries took apart in the forum, which gained wide supports from sources in magnesium industry.
The forum started officially from 9:00 am on March 27, presided over by Rachael Chen from Asian Metal. Liqun Zhang, a researcher from the Department of Macroeconomic Research of the Development Research Center of the State Council (DRC) and the vice-secretary of the Academic Council of DRC, made an report on "Policy Orientation and Situation Analysis of Domestic and Overseas Macro Economy in 2014", and noted that key point of macroeconomic policy started to turn to "steady growth" after significant alleviation of prices increase and inflation pressures. This has been a turn point of macroeconomic policy changes since 2010, from expansion to rational levels. Stabilization of Chinese economy started along with political adjustment. GDP growth rebounded significantly in Q4, 2012, compared with that in Q3. Economic growth generally stabilized with fluctuations in 2013. In light of overall demand, economic and CPI growth appeared at about 7.5% and 3% respectively in 2014.
Alain Dery, the Marketing Director of Standard Resources Corporation, reported on "A Western Buyer's View" and conveyed that magnesium metal became a major raw material in die casting based on splendid performance. Consumption of the material in South and North America has exceeded 200,000t by now. Demand growth of castings will be higher than that of aluminum and more magnesium parts will be used for reducing car weight.
Daniel Chu, Manager of Trade Department of Yulin Tianlong Magnesium Co., Ltd. talked about primary magnesium market and made a report on "Survival Status of Shaanxi Mg. Plants". Reportedly, output of primary magnesium in China has accounted for over half of that in global market since 2002 and the proportion has increased steadily year by year to over 80% by now. Production cost of Chinese primary magnesium became the most competitive in the whole world because of large reserves of magnesium and coal coupled with relatively low labor costs. Competition between old and new enterprises in different producing zones became fiercer amid the export winter along with oversupply. Coal output enlarged due to dependence on coal during magnesium production and advantages were more obvious in low production cost areas, so enterprises in Shaanxi and Sinkiang became emerging powers. Profits in the industry reached new record low level due to weak consumption and fierce competition, and some enterprises in part of areas suffered losses for long. Disorganized market and sluggish downstream demand were major reasons for current gloomy trend. Primary magnesium enterprise hope for brighter outlook through solving current issues.
Jianyong Cao, General Manager of Chongqing Sun Magnesium Co., Ltd. made a speech of "Application Achievements and Aseptic Technique of Magnesium Alloy Auto Parts", noting that work environment of auto parts, well magnesium alloy material, well-designed connection method for avoiding potential difference corrosion as well as the choice of cost-effective surface treatment methods play important role in anticorrosion of magnesium alloy parts.
Professor Gaofeng Quan from Transportation Equipment Light Weight Research Institution of Southwest Jiaotong University discussed the application progress of magnesium alloy transportation equipment light weight and analyzed the solution of demand for advanced equipment light weight as well as fundamental characteristics, super-plasticity and near-net forming of high strength magnesium alloy. He made a speech of "Progress in Light-weight Application of Magnesium Alloys for Vehicles".
At the afternoon, Mingxiong Zhou, Asia-Pacific strategic purchasing manager of Constellium made a speech of " Mg Primary Strategic Purchasing ", explaining that price, environment, safety and service are required qualities in qualification examination for suppliers. Moreover, Mr. Zhou spoke highly of magnesium metal's application outlook in aluminum industry in China.
After that, Zongkun Wang, Vice General Manager of Shanxi Yinguang Huasheng Magnesium Co., Ltd. made a report of "Brief Introduction of Forging Wheel Hub in Yinguang", indicating that magnesium is one of the most abundant metal and a metal with the highest specific strength in the world. Its strength is similar to aluminum, but its weight is only 2/3 of aluminum and is just a little heavier than PVC. So magnesium alloy wheel hub has two huge advantages of strength and lightweight compared with aluminum wheel hub. Mass production of forging magnesium wheel provides enormous space of weight reduction for the development of automobiles in the future, and the application of wheel hub motor, carbon fiber or aluminum space frame will no longer be faced with the problem of too large unsprung weight. He added that forging magnesium alloy wheel hub is the crown jewel for hub industry.
Nes Abdulrahman, Sr. Director, Sales & Marketing of Specialties Inc gave a report of "Magnesium Extrusions", and noted that global magnesium output was 750,000-800,000t. Demand for primary magnesium had huge potential and overall cooperation in this field was needed in the future in order to meet the most urgent demands.
Finally, Asian Metal invited sincerely famous magnesium companies both at home and abroad to attend seminars. The meeting was chaired by Bing Gao, Trading Director of Nanjing Welbow Special Metals Co., Ltd. and participants included Tao Wen, Sales Director of Shanxi Pan Asia Magnesium Co., Ltd., Daniel Chu, Trading Director of Yulin Tianlong Magnesium Co., Ltd., Mark Wang, Chief Delegate of OPTA MINERALS INC and Gaofeng Quan, Professor of SWJTU. All the following issues were discussed in the meeting: continuous price decline in magnesium ingot and development trend of magnesium market, tax cancellation and status & prospect of magnesium product export, status and prospect of magnesium alloy production, cost competiveness and application prospect of magnesium alloy. Participants took active parts in the meeting and expressed their views on the status and development trend of magnesium market, as well as answered the questions in detail.
3rd Magnesium Forum ended successfully at 18:00 on March 27th, strongly supported by support units, Nanjing Welbow Special Metals Co., Ltd., Shanxi Credit Magnesium Co., Ltd., Qinghai SunGlow Magnesium Co., Ltd. and delegations.
Daphne Zhang, Analyst of Magnesium of Minor Metals Dept. of Asian Metal and nearly 60 delegates visited Nanjing Welbow Light Metal Precision Manufacturing Co., Ltd. (one factory of Nanjing Welbow Special Metal Co., Ltd.) on March 28th.
With experienced hosting of summits for minor metals, Asian Metal sincerely thanks for support and corporation of companies in the related industries, and Asian Metal will continue to contribute with profession as always. Look forward to the meeting on magnesium forum next year.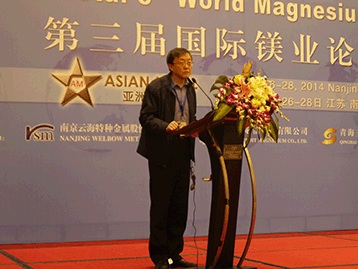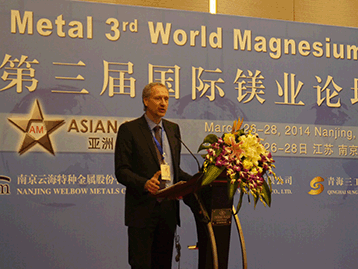 Liqun Zhang, Director of Marco-economy Research Department, Chinese State Council Development & Research Center
Alain Dery, Marketing director, Standard Resources Corporation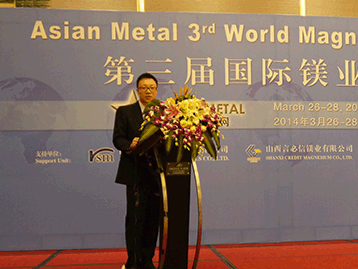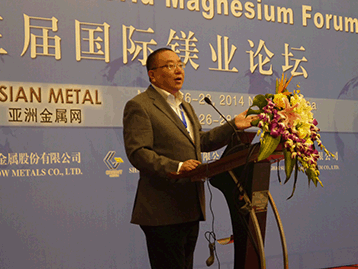 Daniel Chu, Manager of Trading Department, YulinTianlong Magnesium Co., Ltd.
Jianyong Cao, General Manager, ChongQing Sun Magnesium Co., Ltd.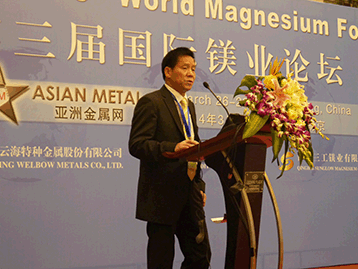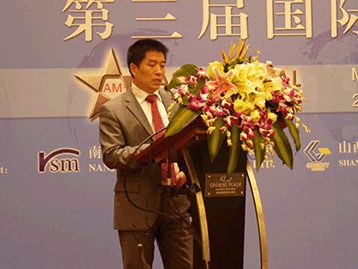 GaofengQuan, Professor, Doctorial Supervisor, Southwest Jiaotong University
Mingxiong Zhou, Asia-Pacific Strategy Purchasing Manager, Constellium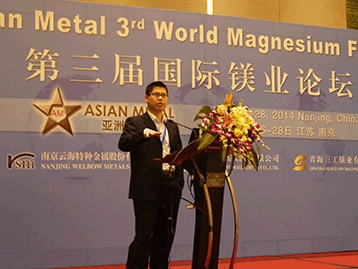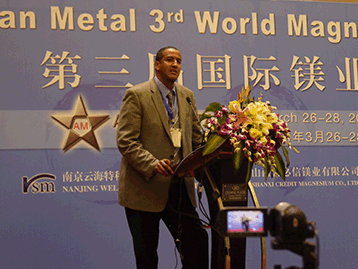 Zongkun Wang, Vice General Manager, Shanxi YinguangHuasheng Magnesium Co., Ltd.
Nes Abdulrahman, Sr. Director, Sales & Marketing, Mag Specialties Inc, United States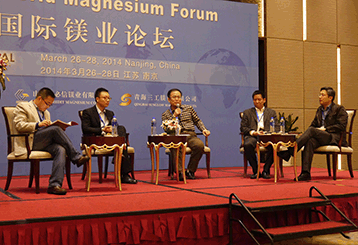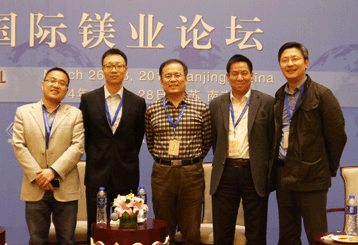 Guests for discussion
Guests for discussion