BEIJING (Asian Metal) 7 Dec 20 - According to customs statistics, China's selenium powder import volume reached 89t in October 2020, down by 31
10/2019-10/2020 China's selenium powder import volume by month (t)
According to the following graph, in October, China imported 42t, 34t, 13t, 0.1t, 0 . 001t and 0 . 001t of selenium powder from Russia, Japan, South Korea, France, Germany and United States respectively . In particular, the import volume from Japan and South Korea recorded a decline compared to last month while that from Germany and United States saw a month-on-month uptrend . China didn't import the material from Russia and France in the prior month.
10/2019-10/2020 China's selenium powder import volume by nation (t)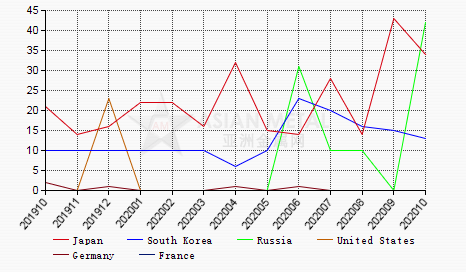 .
. 0% MOM but up by 23 . 6% YOY . The figure fell to below 100t for the first time since this June.