BEIJING (Asian Metal) 29 Dec 16 - According to China Customs, Chinese aluminum alloys export volume to Japan from January to November reached around 241,000t in 2016, up by 35.6% YOY, and accounted for 53.1% of Chinese total exports during the period. During the same period of last year, the export volume to Japan accounted for 36.6% of China's total exports. China exported around 453,000t of the metal in total during January to November, 2016, down by 6.68% YOY.
Unit: tonne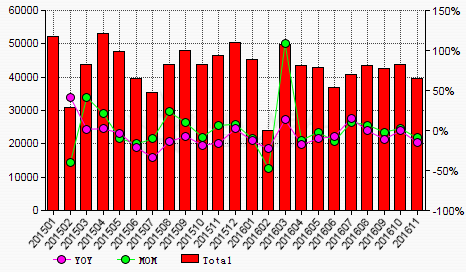 Chinese aluminum alloys export by month
In November, the export volume to Japan dropped by 5.1% MOM to around 25,000t. Because of significant fluctuation of Chinese aluminum prices in recent months, overseas buyers became prudent in orders. JPY depreciation also strengthened the watching situation in Japan. In December, new export deals to Japan became quieter as Japanese people started preparing for Spring Festival holiday.
The export price of ADC12 aluminum alloy ingot dropped by around USD10-20/t to USD1,760-1,780/t FOB China in late December.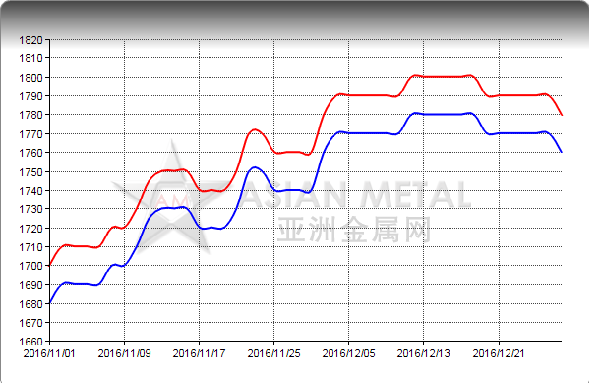 ADC12 aluminum alloy ingot export price FOB China (USD/t)
During the period, the export volume to Hong Kong China moved down by 39.36% YOY to around 111,000t, followed by Thailand with volume at 21,000t, up by 50.92% YOY.
Unit: tonne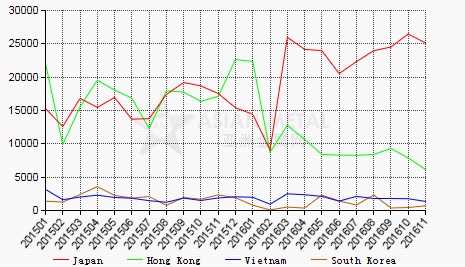 Chinese aluminum alloy export by major countries
Chinese aluminum alloy export by major countries in Nov (tonne)
| | | | | | |
| --- | --- | --- | --- | --- | --- |
| | Nov | YOY% | USD/t | Jan-Nov | YOY% |
| | 39,633 | -15.04 | 1,841.22 | 452,623 | -6.68 |
| Japan | 25,135 | 43.22 | 1,756.86 | 240,618 | 35.6 |
| Hong Kong China | 6,152 | -64.07 | 2,041.18 | 111,295 | -39.36 |
| Thailand | 2,159 | 20.98 | 1,807.90 | 21,051 | 50.92 |
| Taiwan China | 1,440 | 4.29 | 1,886.75 | 12,039 | -10.08 |
| Vietnam | 1,365 | -27.51 | 1,850.67 | 20,171 | -3.24 |
| Korea | 702 | -70.03 | 1,901.38 | 10,183 | -52.9 |
Chinese major aluminum alloy exporters in November
| | |
| --- | --- |
| Exporters | Volume (tonne) |
| Nandu Recycling Aluminum | 8929 |
| Delta Aluminum | 7783 |
| Qiansheng Aluminum | 5709 |
| Lanxi Boyuan Metal | 5121 |
| Yi Chiu Metal | 3297 |
| Huihuang Metal | 2089 |
| Zhongda Supply Chain | 1870 |
| Chengyi Metal | 1272 |
| Yunhai Special Metal | 928 |
| Jiantao Aluminum | 886 |
| Sitong New Materials | 685 |
| Zhangzhou Sigma | 302 |
| Nanping Aluminum | 202 |