BEIJING (Asian Metal) 27 Dec 16 - According to China Customs, China exported around 12,000t of aluminum fluoride in November, 2016, up by 34.6% MOM. The total export volume from January to November dropped by 28.1% YOY to around 104,700t.
Unit: Tonne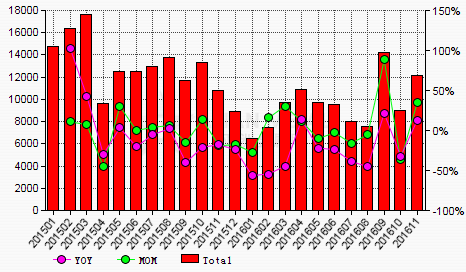 Chinese aluminum fluoride export by month
The export volume to Russia continued to move down in November and dropped by 51.6% MOM to around 1,234t. Exporters mainly fulfilled contracts signed before and few new deals were concluded. Most Chinese aluminum fluoride producers mainly make deals in the domestic market at higher prices.
South Africa became the biggest aluminum fluoride export destination of China in November, with the volume at around 3,000t, followed by Malaysia with volume at around 2,000t.
In December, the aluminum fluoride price in Chinese domestic market moved up further to around RMB7,000-7,100/t DDP, but the export deals failed to be concluded at above USD1,000/t FOB China, so deals in the export market may not see improvement.
Unit: tonne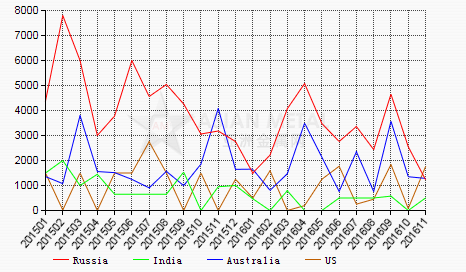 Chinese aluminum fluoride export by month
Chinese aluminum fluoride exporters in November
| | |
| --- | --- |
| Exporters | Total (tonne) |
| Hunan Nonferrous | 4511 |
| Hongyuan Chemicals | 2029 |
| Centpro Trade | 2016 |
| Fluoride Chemicals | 1500 |
| Do-fluoride Chemicals | 1204 |
| Ronzlle Investment | 530 |
| Baiyin Zhongtian Chemicals | 250 |