AM Stats: Chinese vanadium pentoxide powder producers' output up by 13.0% YOY in Sep
2020-10-30 08:34:05 【Print】
BEIJING (Asian Metal) 30 Oct 20 - According to statistics from Asian Metal Database, Chinese vanadium pentoxide powder producers' output reached 1,333t in September 2020, up by 2
09/2019-09/2020 Chinese vanadium pentoxide powder producers' output by month (t)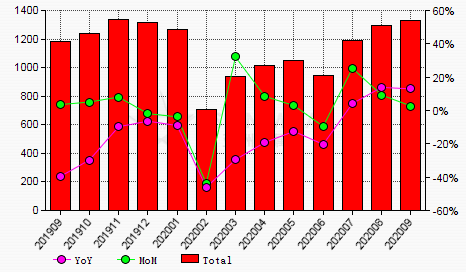 According to the following graph, in September, the output of vanadium pentoxide powder producers in Hebei, Jiangxi, Shaanxi, Hunan and Hubei was 700t, 110t, 80t, 100t and 133t respectively. In particular, the output in Shaanxi went up from the previous month while that in Hubei showed a downtrend month-on-month, but that in Hebei, Jiangxi and Hunan was unchanged from last month.
09/2019-09/2020 Chinese vanadium pentoxide powder producers' monthly output by province (t)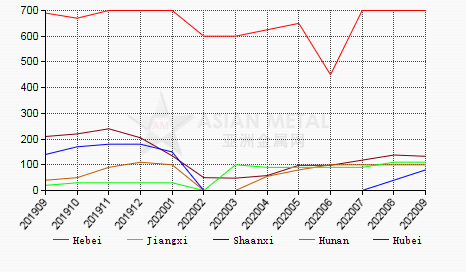 .
. 7% compared with 1,298t in August 2020 and up by 13 . 0% compared with 1,180t in September 2019 . The figure rose for three consecutive months since this June.